Up until a few years ago, I always felt compelled to finish watching a movie once I started. I think it's most likely that I've always thought that even if a movie doesn't entertain, at least I could learn what makes a movie bad. I'm not sure if I've just seen enough movies that I get bored easily or that I've finally realized I won't be around forever and value my remaining time way too much, but if I can't find a reason to keep watching a movie past the first act, I'm done.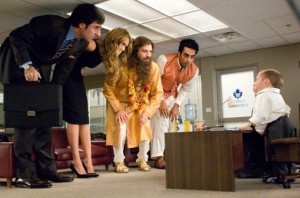 One of the most recent victims of my new philosophy was The Love Guru. And I couldn't even give that pile [...]
Continue reading Did Mike Meyers Make The Worst Movie Of 2008?