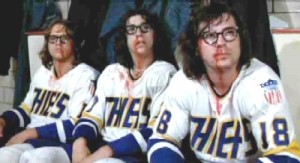 Compared to other sports, hockey has been relatively untouched by Hollywood. It'd be easier to name a high percentage of all the hockey movies ever made than any other sport. I'm not sure how many there really are, but this list of hockey movies has everything I could think of and a few I've never heard of, 16 in all. Maybe it's our way of showing Canada that they're just America's hat. Or maybe it's just not popular enough to garner much attention.
Even though there have been so few hockey movies, it looks like all the hockey ideas have been used up. Universal Pictures is prepping a remake of Slap Shot. It's often regarded [...]
Continue reading OHDEARGOD A Slapshot Remake?