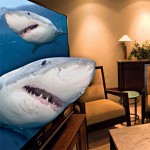 If you hadn't yet noticed, 3D is coming back to movies in a big way. Every week or two a new release makes it's way into a few 3D theaters. By most accounts, or at least box office receipts, people seem to enjoy the 3D thing so Hollywood is going to push it until it's all pushed out. Because you know, it's easier to get people to spend more money on movies by making them look spiffier than actually trying to make better movies.
The problem Hollywood has is that not every movie is financially appropriate for 3D. Using Monster vs. Aliens (the biggest digital 3D release to date) as a case study, if you've [...]
Continue reading Will Your Favorite Movie Be Better In 3D?