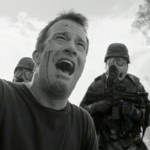 I'm going to make a couple assumptions here. First, that you have seen or don't care about the ending of The Mist. It's just those last few minutes of the movie to which I'll be referring, so if you don't care about the ending and still want to read on, you may want to catch up with a review of the movie. Second, I'm assuming that at one point it was expected that watching a movie could change your perspective on life and that generally speaking, those days are long behind us.
I suppose I'm making a third assumption as well- that you'd believe I hold myself to be a fairly pragmatic person. It may [...]
Continue reading Do Movies Still Have The Power To Change Our Lives?