Take from this what you will, but currently on Rotten Tomatoes, The Soloist has a 60% rating, Fighting has 36%, and Obsessed has 20%. A rational person might conclude that the money earned by the movies would follow a similar pattern, with the most favorably reviewed movie earning more money. But no, the inverse is true: the lower the rating, the more money the movie made. And then you'll notice that Crank: High Voltage has a 62% rating and probably ask yourself if those ratings really mean anything at all.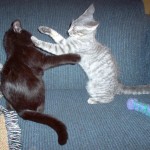 Obsessed, in spite of generally poor reviews, came out big this weekend, to the tune of $28,612,730, $9 million more than my prediction. Now, I'm wondering whether the bigger draw was Beyonce Knowles or the promise of a huge catfight. I'm thinking it may have been a little of both, but I'm leaning toward the latter. If I told you this was the seventh biggest opening in the month of April, you'd probably shrug and soon forget that useless piece of trivia. But when I tell you that due to the $2.10-ish increase in average ticket prices in the last ten years this movie pushed The Matrix down to the eighth biggest opening, I hope you'll pause to reflect on what a sorry state of affairs your local theater has become. Yeah, you're paying 41% more than you were ten years ago. And I don't think anyone's been putting that extra money to good use.
The deuce goes to Fighting, which skidded to a halt just north of $11 million. I predicted $9 million, so I'll go ahead and pat myself on the back for getting close. What more is there to say except that audiences are much more interested in seeing chicks fight.
The Soloist was the third widest release and also the third highest grosser. It made $9,716,458, about $1.3 million more than I thought. It averaged $4,801 per theater, better than both Fighting and second place 17 Again. Even though this movie had to start out with award aspirations, my guess is that jettisoning it in April didn't really make a big difference in the box office receipts. The Reader has an Academy Award nomination for Best Picture under it's belt and has still only managed $34,157,651. Some of these actor-centric movies only have so much gas in the tank.
As far as my predictions go, I'll go along with Meatloaf and say two out of three ain't bad.