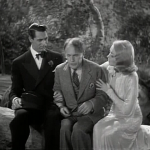 The first Topper movie was made in 1937 and starred Cary Grant as a ghost who, along with his ghost wife, decides that in their recently deceased state, what they need to do is loosen up Cosmo Topper and get him to bust out of the staid mold his wife has forced on him. It was a big financial success and even got nominated for a couple Academy Awards. It solidified Grant's comedy career and inspired a couple sequels and a couple TV iterations. It sounds like a great movie for a remake, doesn't it? Once popular and pretty much forgotten, but probably has enough name recognition to attract an audience.
So it should be no surprise to hear there are a couple dicks that are prepping a Topper remake. Jason Filardi, responsible for scripting the highly annoying Bringing Down the House and the highly derivative 17 Again, is writing the script. And everyone's favorite choreographer Adam Shankman is directing. He's directed crap like the highly annoying Bringing Down the House and the unforgettable Cheaper by the Dozen 2, the only movie ever released in Cyprus on March 17th. They celebrate with an annual riot and mass burnings of the DVD.
You may think it a bit rash of me to call these two dicks a couple of dicks, even if they've made some bad movies. Primarily bad movies. At a recent press conference, Shankman and Filardi spoke about the remake. Even though Shankman says Topper is one of his favorite movies, he derides it as being "terrible" says the movie "is just nothing" and does not "hold up to modern viewing." Of course they updated the story because what's the point of a remake if you can't screw with a proven winner. But to bash the original, a successful, popular movie, bash it in a way a jerk like me might do to an actual crappy movie (like The Last House on the Left remake, Wes Craven you peckerhead), that disrespectful crap is why I inherently despise any remake.
Dickheads like these two dicks think they're actually taking some dead pile of garbage and turning into something beautiful. They don't acknowledge the success or the historical relevance of the original. It was 1937, how could a movie that old still be relevant to today's audience, they cry. It can't, so we'll put Steve Martin in it and give it modern sensibilities- oh, and a few jokes about bodily functions. People love fart and doo-doo and pee-pee jokes. Love them.
To read the words of Shankman and Filardi is to understand why many people like myself feel movies are dying. Every movie will be remade, nothing is sacred, and like corrupt souls are wont to say, it's just business.