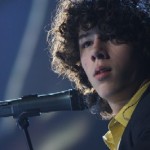 Last year, the Hanna Montana 3D concert movie pulled in an unreal $45,561 per screen on it's opening weekend. That was kind of the baseline most people were looking at for the Jonas Brothers movie. No one really thought it would go quite that high, but still, most people thought it might be in the ballpark. The Internet is full of arguments about the popularity of Miley Cyrus versus the Jonas Brothers, so you'd expect fans would've turned out in droves this weekend.
As it turns out, not that many people really give a shit about the Jonas Brothers. The movie made $12,510,374, averaging $9,843 per theater. That's good for most movies, but it's barely more than one-fifth the per-theater average Hanna Montana did. Even though it pales in comparison, the Jonas Brothers movie will end up as the second highest -grossing concert movie ever, currently only $2.5 million behind Madonna: Truth or Dare. At least there weren't as many parents subjected to this movie as were expected. Now do I really need to mention that it came in $27 million below my prediction? I might have been close if I stuck with the calculation instead of filling out half the info and calling it close enough.
Street Fighter: The Legend of Chun-Li was a tale no one really cared to hear. It made just $4,721,110, $2 million below my paltry prediction. This had to be disappointing for a movie with a $60 million budget. Adjusted for inflation, the first Street Fighter debuted to about $11.8 million. Street Fighter just doesn't have the appeal it once did.
Madea Goes to Jail didn't move from it's perch as the number one movie, despite falling off 60% from last weekend. I couldn't find a decent source for the budget of the movie, but it couldn't have been much more than $10 million, if that. Huge profits = more Tyler Perry. Slumdog Millionaire nearly made it into second place, just $500,000 short. It ended the weekend with $12,026,343, it's biggest weekend to date. Winning Best Picture = huge profits. So by my rationale, a Tyler Perry movie will win Best Picture.
Speaking of Best Picture nominees, Slumdog (long the front-runner) and Benjamin Button (studio picture with Brad Pitt) are both well over $100 million. More people have seen He's Just Not The Into You than Milk, The Reader, and Frost/Nixon combined.