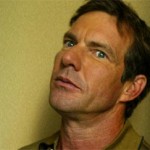 Dennis Quaid gets a lot of work. A damn lot of work, but it's not like he's the draw he once was. He's gone from "let's see this Dennis Quaid movie" to "oh, Dennis Quaid is in this movie." It's not good when a career resurgence consists of Meg Ryan making you into a cuckold.
Whilst discovering the bestowment upon Michael Bay of a possibly prestigious/possibly dubious award from ShoWest, I also perused the other award winners, such as Chris Pine (who?) as the Male Star of Tomorrow and Bradley Cooper (who?) as the Comedy Star of the Year. But they gave Michael Caine the Lifetime Achievement Award, so it's not like they're completely idiotic.
Even more than Sienna Miller as Supporting Actress of the Year, I was taken aback to see that Dennis Quaid will be anointed Male Star of the Year. Maybe I'm the one that is simple, but I fail to see how Dennis Quaid could be named Male Star of the Year, and not even just this year, but any year, ever. His three movies released in 2008 grossed a combined total of $90 million. That's not even a big number for one movie, let alone three. In fact, the press release doesn't mention anything Quaid's done lately, just that he's "been entertaining audiences for over three decades" and that his "body of work is… a testament to his ability and talent as a great actor." And of course it drops the names of his next few movies.
It's not like I really care that some media group is giving an actor an award. Honestly, I don't really care. What fascinates and perplexes me about this is that I don't understand why they could be giving their biggest actor award to Dennis Quaid. Sure he's been in a lot of movies, but few of them have been great financial or critical successes. And it's not like he's headlining any huge movies this year that need a little extra exposure from an award of which few people will ever hear. So why in the world could anyone call him the Star of the Year? It's not like it's 1987 when he had The Big Easy, Innerspace, and Suspect, but even that is a tenuous proposition.