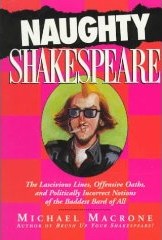 Okay, maybe the combination of porn and Hamlet appeals more to Shakespearean fetishists. I suppose there are people out there that could be really turned on by pornstars speaking their lines in iambic pentameter. But no, I didn't get to experience this new art form, I got the porn and Hamlet in two different movies: Zack and Miri Make a Porno and Hamlet 2.
Zack and Miri, it's about these two people named Zack and Miri. They're like best friends and all, they've lived together since high school, but it's like totally platonic. And these two, it's a bit of a surprise, but they're financially retarded. Despite both having regular jobs, they can't seem to pay a single damn bill. Then Zack gets an inspired idea, they should totally make a porno. Miri, being the reasonable, responsible one, hems and haws a little before agreeing. And since they're such great friends, they can screw without things getting all weird. But after screwing in front of a bunch of people, things do get all weird, and Zack and Miri eventually get all pissed at each other and Zack moves out, and things get all sad. Then they get back together and things are all happy.
The movie initially got an NC-17 rating, but Kevin Smith was able to whine it down to an R. It's a pretty hard R, with all the femdom strapon sex, constipated pornstars taking taking dumps on guy's faces, and plenty of hairy beanbags on display. I've never thought much of Smith as a filmmaker, his specialty is having characters say the most foul things he can get away with. I'm not sure what was up with it, but there were several scenes that ended quite abruptly, where a character would deliver their funny line and it would immediately cut to the next scene, so that joke never really had time to sink in. I wasn't exactly cracking up, but that little quirk kind of undercut some of the impact of the dirty jokes.
My opinion is that Kevin Smith's whole schtick has gotten really stale since Jay and Silent Bob Strike Back. If your opinion differs, you'll probably really get off on Zack and Miri.
Hard on the heels of Zack and Miri, I watched Hamlet 2. It's about this teacher that puts on a ridiculous musical sequel to Hamlet, but since all the characters are dead, there's time-traveling and Jesus. Now this movie, it was purportedly "dementedly funny" and "comedy heaven," but it's really just the same old thing you've seen before: a never-was with a lot of inspiration gets a class full of kids that could care less, those kids end up loving what they're doing and they won't let their teacher quit when he wants to give up. There's the obligatory "how do I reach these kids" scene, the "he doesn't realize his marriage has fallen apart" subplot, the "everyone is against this but they all understand after seeing it" ending, and Amy Poehler's stock heartless bitch character.
Me, I found Hamlet 2 unfunny and tedious. After it was over, Mrs. Furious turned to me and asked, "why was that movie so bad?" I didn't have a good response. It was what it was, much ado about nothing.