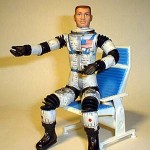 Having not grown up in the 1960′s, I've never heard of Major Matt Mason and would never have assumed it was a beloved action figure along the lines of the original G.I. Joe. Major Mason was an astronaut who lived and worked on the moon, first appearing in 1966, just in time to capitalize on the Space Race frenzy.
Mattel is pulling the old Mason doll out of the bottom of their toy chest, developing it into a movie as a vehicle for Tom Hanks. I'm sure Hanks would fondly remember playing with his Major Matt Mason doll seeing as he brought one along to a development meeting, but I'm wondering why Mattel would make a movie around a toy that many have never heard of, and those that have probably forgot about until they read that it's going to be made into a movie.
G.I. Joe I can understand. It got it's start in the 60′s, carried over into the 70′s, and saw a huge resurgence in the 80′s. And now those kids from the 80′s are in their 30′s and presumably have the most disposable income to blow on a nostalgic movie. Major Matt Mason disappeared in the 70′s and hasn't been seen since. The kids who loved that toy are now in their 50′s and represent a much smaller demographic, as far as spending money on movies goes.
The most likely solution to bridge those age groups is to update the Major Matt Mason universe, bringing it into the 21st century. But then wouldn't that kill all those childhood memories attached to the forgotten space dude? It seems like it would turn into something along the lines of Thunderbirds, and no one wants that. What made that special was that in the original show they were marionettes. It was different and interesting. What made the movie crap was that it was unmemorable and schmaltzy. Making Major Matt Mason a modern astronaut would seem to do the same thing.
I will admit that it sounds like an immensely better idea than Stretch Armstrong since at least Major Matt Mason has a story and not just rubbery limbs.