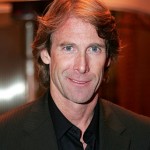 ShoWest is a big annual convention put on by the Nielson Film Group, the people behind such industry rags as Film Journal International and The Hollywood Reporter. It's a big fancy trade show for those in the cinema exhibition and distribution community: distributors, theater owners, and the like.
As we all know, one of the traits common to all in the movie business is the love of showering each other with awards. And ShoWest is definitely no exception, bestowing no less than eight awards each year. But based on the recipients, I'm not entirely sure how much prestige is attached to the awards, though I highly doubt they ever get turned down.
This year's winner of the Vanguard Award for Excellence in Filmmaking is none other than director and professional dipshit Michael Bay. He is apparently "one of the most bold and imaginative filmmakers in the industry today" and is able to put people "at the edge of the seats and running back to the theaters for more." The press release goes on to lavish Bay with more praise for the amount of money he's been able to get from moviegoers. And of course there's a mention that Transformers: Revenge of the Fallen will be out this year.
What isn't present is an acknowledgement for something Bay did in 2008, you know, which would be the impetus behind him receiving the award. I guess it's not that weird since he didn't actually have a film credit for 2008, so I suppose that leaving that out makes sense.
So really, the award is nothing more than an advertisement for Transformers and another reason for Michael Bay to believe he is the greatest person alive. The award shouldn't be called the Vanguard Award for Excellence in Filmmaking, especially if it's given to Michael Bay. The name should be changed to the Award For Making Us Money in the Past and the Anticipation of Doing So in the Future.