Sometimes the ideas these movie people come up with, they're just too crazy for words. But I'll try.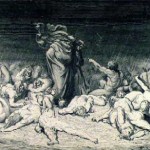 The Divine Comedy is an epic poem written by Dante Alighieri back, oh, in the 1300′s. It's considered one of the world's greatest works of literature. Inferno represents the first third of the book and details Dante's journey through Hell, all nine circles of that bitch. Dante and his guide Virgil get to meet and chat up all sorts of sinners and monsters along the way.
Although it's not an action/adventure story and there's no battle to speak of, you could see why someone would want to make this a video game. A journey through Hell gives you an excuse to show all kinds of nasty looking stuff and being based on a significant piece of literature makes gamers feel more intelligent. That's a win-win. You know why Hollywood would want to make a  movie out of that: it's a video game. And not only are the story and characters fleshed-out, but the art design is already done.
This wouldn't be the first time a video game inspired by the Divine Comedy was rumored to get the movie treatment. Devil May Cry and it's sequels made heavy use of Inferno and the movie may be released in the next couple years. We know that studios like to concurrently develop similar projects, but two movies based on video games based on the Divine Comedy, that's going too far.
One thing this does do is open my eyes to a whole new channel for remakes and cross-promotion. Just like we've got movies based on musicals based on movies, we've got movies based on video games based on [fill in the blank]. It's an epic poem this time, but just wait. Eventully it will happen: see the movie based on the video game based on the movie.