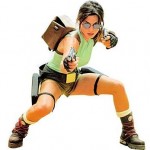 Do you happen to remember the movie Lara Croft: Tomb Raider? How about Lara Croft Tomb Raider: The Cradle of Life? Yes? No? Doesn't matter, they're starting from scratch.
When Time Warner upped it's stake in video game publisher Eidos in December, the film rights to Tomb Raider were part of the deal. Now they've announced the rebooting of the Tomb Raider movie franchise, replete with a reworking of the Lara Croft character- new back-story, villains, love interests, yippee! I mean that whole thing with her being a rich English adventurer following in the footsteps of her dad was sooooo tired. It totally needs a revamp because… who the hell knows? A total whitewashing of the franchise/character appears to be the only hope for the another Tomb Raider movie.
It's not like I enjoyed either of the previous movies all that much, but is there really a need to reinvent the character? It seems to me that the draw of the movies is the character of Lara Croft, which is suggested by the titles of both movies starting with Lara Croft, rather than the Tomb Raider world, which is fairly unremarkable, with the exception of the lead character being female, and a very visually feminine one at that.
Since Angelina Jolie obviously won't be back, there's speculation that Rhona Mitra, the first full-time Lara Croft, could be a casting consideration. After all, since her time as Lara, she's been in quite a few movies and TV shows and, as of Doomsday, has started headlining movies. My guess would be that if they're reinventing Lara Croft, she ain't going to stay English. It wouldn't rule Mitra out, but her accent wouldn't help either.