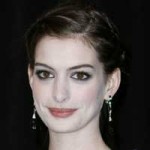 Sure the Golden Globe Award winners won't be announced until the broadcast on Sunday. We shouldn't really know the winners until then, but the Hollywood Foreign Press Association may have let one slip.
Yesterday a spiffy gold star popped up next to Anne Hathaway's name on the Golden Globe nominees website, indicating she had won the award. It was a gaffe, but as long as they didn't reveal all the winners, people will still watch.
Shortly after the generally abhorred Bride Wars began screening, the star next to Hathaway's name disappeared. The HFPA won't comment on the star, but the obvious connection is that Hathaway had won the award for Best Performance by an Actress in a Motion Picture – Drama but was stripped of the award once people started seeing Bride Wars. Pretty harsh treatment from the effusively backslapping HFPA.
Bride Wars is reviled by most, but it's a little unfair to make Hathaway take the fall for what was a collaborative effort, or should I say a collaborative shrug, by everyone involved in the supposed bridal comedy.
Come Sunday, if they give her the award, we'll know she won. If they don't, then we'll know Bride Wars is as bad as they say.