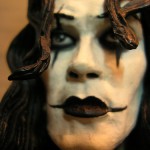 The Crow will be most remembered for the on-set death of Brandon Lee. That's unfortunate because it is quite an engaging movie with a fantastic performance by Lee. Many thought it would be his breakout role. Instead, just like his father, he will be remembered for dying young and under controversial circumstances.
Lee's death cast a pall over The Crow that only intensified the brooding, melancholy tone and Gothic imagery. It's generally well regarded and has a league of devoted fans. It made nearly $100 million at the box office and spawned four sequels.
So what does that mean? Well, it's time for a do-over, of course. Stephen Norrington (Blade, The League of Extraordinary Gentlemen) has signed on to write and direct a "reinvention" of The Crow. He intends to increase the realism and give it a documentary look. It will presumably be Norrington's big return to directing, which ended with Gentlemen in 2003.
Have all the comic books been snatched up already? Is there really nothing left? I know all the studios currently have a hard-on for anything spawned from a comic book, but it would seem that this would be yet another story that doesn't need to be revisited. There wasn't anything so flawed about The Crow that it requires a reboot. It was a niche comic adapted into a niche movie that was able to connect with viewers beyond it's niche. Not only is it a repugnant idea, but disrespectful to the memory of Brandon Lee.
Image courtesy Emuishere Peliculas via Flickr