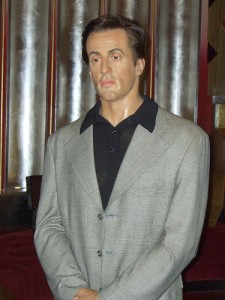 After the moderate successes of Rambo and Rocky Balboa, Sylvester Stallone is continuing his trip down memory lane. He's writing and directing a movie about mercenaries in South America attempting to overthrow an evil dictator- The Expendables. By all accounts the plot is as simple as the one sentence summary. It's simple, but totally awesome. It reminds me of (obviously) Rambo, Missing in Action, Commando- all the great 80′s military-ish action movies.
But it's not just the plot that kicks ass, it's the cast. Stallone, Jason Statham, Jet Li, and Dolph Lundgren have all already been announced. Now Forrest Whittaker and UFC hall of famer Randy Couture have been added to the cast. This is turning into an action buff's wet dream. This has got a ton of action cred and Whittaker adds some acting chops. Statham's making two or three second-tier actioners a year, Jet Li's practically a living legend, and everyone's been waiting since Rocky IV for Stallone and Lundgren to team up again. If they could find a way to squeeze in Arnold Schwarzenegger, Chuck Norris, and Jean-Claude Van Damme, this would really be one of the greatest casts ever assembled.
That's not a lot of info about the movie, but I can hardly contain my excitement. If it's as simple as it sounds, this could really be one of the best movies ever.
Image courtesy Sean Dockery via Flickr