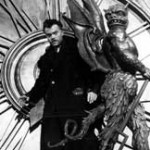 What do you get when an innovative, egomaniacal director who makes movies that don't make any money sets out to prove to everyone that he can work within the Hollywood system? You get Orson Welles' The Stranger. It's generally regarded as Welles' most conventional offering, but that doesn't mean it's just a run-of-the-mill thriller.
Welles plays Franz Kindler, a Nazi war criminal hiding out in a small Connecticut town. Rather than just lie low and keep to himself, Kindler works as a history teacher and is about to marry the daughter of a Supreme Court judge. UN war crimes investigator Mr. Wilson (Edward G. Robinson) scours the globe in search of Kindler, until finally releasing and following one of Kindler's associates. An intense game of cat-and-mouse ensues as Kindler does all he can to conceal his identity.
Although a studio-produced film, and later disowned by Welles, the director's fingerprints are all over the movie. Long takes, intricate camera work, interesting angles, and tight writing. It may not be the best movie of Welles' career, but it's still better than most.
Grab yourself a copy from the Internet Archive.