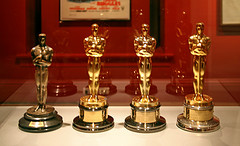 I used to watch the Academy Awards religiously. But I stopped watching them as of 2005. The predictability of the winners, celebrity idolization, and grating Tonight Show format created a perfect storm of disgust, so I just read about the winners the next day.
The rumor is that this year the producers are going to chose a non-comedian to host and dump the intro monologue/song-and-dance. This is great news! The format is tired and the jokes always either childish or ego-stroking. Other than to stretch the show out to sell more advertising, I never really saw the point of the big comedy segments. It almost got the feel of a variety show at times.
They needed to do something to liven things up- last year's Oscars was the lowest rated since ratings for the show were tracked. Some point to the writer's strike affecting the writing and causing viewers to tune out, but only 6.5 million viewers were lost over the length of the broadcast. The real problem was the tiny 10.68 rating in the 18-49 (money) demographic. They'll have a harder time selling ads this year with a down economy and few viewers in the prime demographic.
Maybe a kick in the pants is what the Oscars need to make the presentation more relevant. In truth, I'm still turned off by the self-adoration and predictability, but this change will get me to take a look.
UPDATE: It looks like Hugh Jackman will be the host. He won an Emmy for hosting the 2004 Tony Awards.