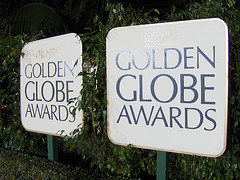 This year's Golden Globe nominations are out. Since studios release their award hopefuls at the end of the year so they're fresh in everyone's head, it's no surprise that the list is filled with movies that have been working the festivals but have yet to get a general release. The Hollywood Foreign Press Association has a tendency to reward those who've put in an effort to win an award, so it's not much of a surprise.
What will surprise many people, and possibly bring the Internet to a standstill, is that The Dark Knight only got one nomination. All the people who have been touting this as the most amazingly deep and important comic-book movie in history will be sadly disappointed to realize that no one really cares if you're not part of the club. The sole nom was for Heath Ledger. He was part of the Hollywood club. Christopher Nolan, Christian Bale, and Batman aren't.
When I think of made for TV movies, I always think of a bunch of semi-recognoizable actors desperately trying to get their face out there, like The Poseidon Adventure with Steve Guttenberg. But looking over the nominees for Best Actor/Actress in a mini-series/TV movie, the actresses have 22 Academy Award nominations between them. HBO and Showtime received a combined 30 nominations. Cable has really upped the ante for the expectations of quality on TV.
Image courtesy Joe Shlabotnik via Flickr