If you hadn't noticed, I passed on making a prediction for this past weekend. Aside from making changes to the site, I just wasn't sure how to approach the long weekend- four days for most of us, but five days as far as movies are concerned. Maybe Thanksgiving day would be especially high or low, maybe Wednesday and Thursday would be big and the rest of the weekend would peter out. And my uncertainty wasn't totally unfounded: Wednesday the 19th made $6,526,023 while the 26th pulled in $33,325,833, yet Friday, Saturday, and Sunday were nearly the same as the previous week.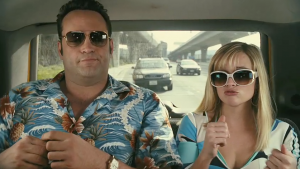 Somehow 4.4 million people went to see Four Christmases. That was enough to win the three-day weekend at $31,069,826. Why you people did that, I can't fathom. I guess a movie billed as a Christmas-themed romantic comedy has the benefit of the season. Aside from generally negative reviews, I'm completely turned off by the obscene disparity in the size of Vaughn's and Witherspoon's heads. Her head is literally like half the size of his. It's totally disgusting.
Bolt squeaked in at second place and actually had a slightly bigger weekend than it's opening, a pretty rare feat. It could be that the competition from Madagascar 2 and Twilight faded. Or it could be that it's just a good movie. In a column at The New York Times, Disney spokeswoman Heidi Trotta said, "Word of mouth should bode well over the Thanksgiving holiday and beyond." Maybe they knew Twilight would crush them on the opening weekend but they'd end up with the longer tail.
Twilight ended up in third, dropping more than 60% from the previous weekend. Australia earned a tepid $14,800,723, small potatoes towards the $130 million budget. I'm not sure the point of the big-budget travelogue. Unless you're a big Hugh Jackman or Nicole Kidman fan, I can't really think of a compelling reason to see the movie. Kind of a disappointment as Baz Luhrmann's followup to Moulin Rouge!
It looks like Fireproof is finally starting to flame out. For the first time, the movie failed to recoup it's operating budget over a weekend, making $431,787. Once again it's time for Kirk Cameron to ride off into obscurity.