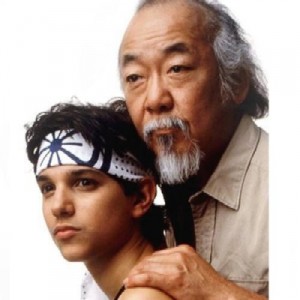 So, remakes, redos, reboots, reimaginings, retreads, do-overs, mulligans, reworkings, and the raping of back catalogs are all the rage in Hollywood. With all the dignity of a crane kick to the face, Columbia Pictures has announced they are going remake The Karate Kid. It will be a vehicle for Will Smith's soon-to-be-more-famous son/protogé Jaden.
I don't have a particular attachment to The Karate Kid, other than enjoying it as a kid and judiciously using 'wax on, wax off' and 'Daniel-san' over the years, but this kind of news really depresses me. It seems a very needless and random remake. What movie can we remake that stars a little kid? The Karate Kid hasn't been redone yet, yeah, let's do that! If there was some big karate renaissance, I could at least understand it. Since Jaden Smith is reportedly a martial arts buff and Will Smith one of the producers, you kind of get the vibe that maybe he told daddy he wants to be the Karate Kid and Big Willie made it happen.
Aside from the general sense of loathing for this project, I'm really miffed that the Variety article states that there is an "eccentric mentor." I hope that was just the author's words and not the basis for the character. I don't think eccentric is the right word for a wisened immigrant with high moral character who wants to teach young men discipline and to believe in themselves.
The Cobra Kai Dojo is not going to be happy about having their legacy crapped on.