So, A Mad Dash is easily identified- it's a comedy with a cast full of famous actors, celebrities, and comedians who are all frantically chasing after some prize. There are a ton of zany, incoherent situations manufactured to get as many laughs as possible. The plot is the least concern and only needs to find a way to connect all the silly set pieces. You'll usually find plenty of B-list actors, athletes, and a foreign actor or two.
This is the cream of the crop of Mad Dash movies. It gets into it's fair share of silliness, but It's a Mad Mad Mad Mad World features just about every comedic actor alive and one of Hollywood's greatest actors in the leading role. Spencer Tracy heads a cast that includes names like Jonathan Winters, Ethel Merman, Milton Berle, Buddy Hackett, Jimmy Durante, Mickey Rooney, Sid Caesar, Phil Silver, and on and on. There are also a bunch of cameos- the Three Stooges, Don Knotts, Buster Keaton, Jerry Lewis, Jack Benny, and on and on. The plot centers around some motorists who stop to help a dying car crash victim who imparts on them the hidden location of $350,000 he stole years before. The motorists agree to amicably retrieve the money, but distrust immediately sets in and it becomes every man, including the old bag, for himself. Director Stanley Kramer, who also made The Defiant Ones and Judgment at Nuremberg, wanted to make a comedy to end all comedies, but the common criticism is that the movie buckles under all the comedic weight. If you're willing to sit through the gags that fizzle out and endure the loooong run time, it is a funny movie.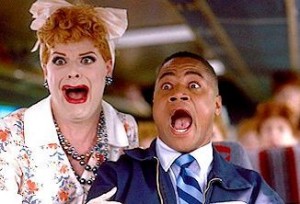 Rat Race wanted desperately to be a modern Mad Mad World. It had the same basic premise (the main difference being that the participants are unwittingly part of a high-stakes game where gamblers bet on who reaches the money first) and features a cast of recognizable names- Whoopi Goldberg, Cuba Gooding Jr., Jon Lovitz, John Cleese, Rowan Atkinson, Kathy Bates. But the thing it's lacking is the overall comedic experience of the cast of Mad Mad World. A good chunk of the movie follows Breckin Meyer and Amy Smart- not exactly heavyweights in the laughter department. Director/producer Jerry Zucker can do over-the-top comedy well (Airplane!, The Naked Gun), but when he has to reign it in, the results have been mixed (Ruthless People, Ghost, First Knight). The movie does have it's moments, but it just doesn't have the enveloping hilarity of Mad Mad World.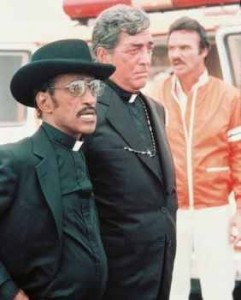 You know it's a Mad Dash when you see Burt Reynolds, Roger Moore, Dom DeLuise, Jackie Chan, Terry Bradshaw, Jamie Farr, Farah Fawcett, Peter Fonda, Jimmy The Greek, and Dean Martin all in the same movie. The Cannonball Run is based on the real life illegal coast-to-coast car race and features many of the same vehicles and antics from the real race. Director Hal Needham, a former stuntman, was a participant in the real Cannonball Run, so as outlandish as some things may seem, much of the movie is based on actual events. This was one of Needham's many collaborations with Burt Reynolds, for whom he had served as the stunt double on many movies. Needham liked to show outtakes during the closing credits, and Jackie Chan got his inspiration for the same from this movie.