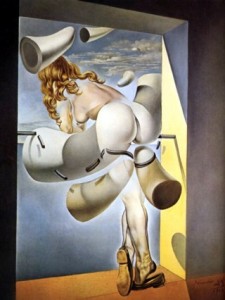 So, there's going to be a new biopic about Salvador Dali. Okay, that's reasonable, he was a fairly interesting guy. Antonio Banderas is in negotiations to play Dali. Sure, he's a capable actor, and Spanish to boot, so that's a decent choice. The movie will "explore how Dali conquered America and the world with sex, sin and surrealism only to succumb later to worldwide scandal and misfortune."
Oh, and Simon West will direct. You know him- Con Air, Lara Croft: Tomb Raider, and the When a Stranger Calls remake. Not exactly the guy you'd expect to direct a biographical movie about an eccentric artist. If West's company hadn't optioned the rights to the story, I don't think he would have been on anyone's short list for this movie. Hell, this is the guy that made rickrolling possible, if you need any further proof.
If this doesn't satiate your Dali appetite, fear not, there are at least two other movies about the artist in the works. Dali and I: The Surreal Story, starring Al Pacino and directed by Andrew Niccol, is slated to open next year and Little Ashes, about the relationship between Dali, Luis Buñuel, and Federico García Lorca, should also see a release next year.