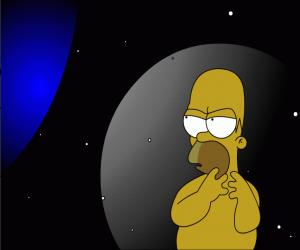 So, it looks like Brad Pitt is a big fan of Homer- the Greek poet, not Simpson. Not only did he star in Troy, the adaptation of Homer's Iliad, but he'll also star in an upcoming adaptation of Homer's Odyssey. But instead of being set in Ancient Greece, this Odyssey will be set in outer space.
It seems we've been getting a lot of Homer lately. Besides Troy, there was a TV adaptation of the Odyssey in 1997, and 2000′s O Brother, Where Art Thou? was based on the Odyssey. I can't say that it's too much because Homer's epics are really great stories, but the space setting seems overdone. Movies like Hitchhiker's Guide to the Galaxy, Lost in Space, and shoot, even The Ice Pirates all kind of feel similar to the Odyssey- characters on epic journeys and having many strange encounters as they search for their homes.
The one thing that could really make this project feel different is that George Miller is directing. Although he has a fairly short résumé, he seems to always make a good movie. I couldn't even point to one of his movies and call it weak. And he's diverse, too. It's hard to believe that the guy who made The Road Warrior also made The Witches of Eastwick and Happy Feet.