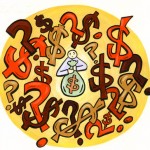 So, it's Friday and the new releases are upon us. I've been messing around with my formula, trying to tweak things to come up with some better numbers- add this, subtract that, count that as half, blah, blah. Ultimately, I went simpler. I took the last four movies for each the director and the two most prominent actors, added up the weekend totals for everyone and divided that by the total opening weekend screens. Instead of calculating them separately and then averaging the per artist averages, I just threw everything together in the first step: total opening weekend box office divided by total screens.
I expect Eagle Eye will win the weekend going away. The movie has received plenty of marketing buzz and the wienery Shia LaBeouf has inscrutably become a box office draw. The total opening weekend gross of the last four movies for each director D.J. Caruso, LaBeouf, and tomboy next door Michelle Monaghan came to $335,082,080, half coming from the wiener (sorry, I tried but self control lost out) for Indiana Jones and the Kingdom of the Crystal Skull and Transformers. Divide that by 34,485 screens and you've got a per screen average of $9,716.25. Eagle Eye will be on 3,510 screens, so the prediction is $34,105,788.05. Probably a little high, but you never know. As Chris Berman says, "That's why they play the game."
Miracle at St. Anna will have a hard time keeping Nights in Rodanthe out of second place. Director Spike Lee and actor Michael Ealy both averaged a little over $10,000 per screen, but Derek Luke drags them down, averaging only $4,000. The total gross came to $139,223,879, divided by 18,084 screens, that gives us $7,698.73 per screen. Now here's the problem with Miracle at St. Anna- it's only playing on 1,185 screens. That works out to a predicted total of $9,122,998.04. Nights in Rodanthe is playing on 2,704. It can average under $4,000 a screen and still beat what I predict for Miracle at St. Anna.