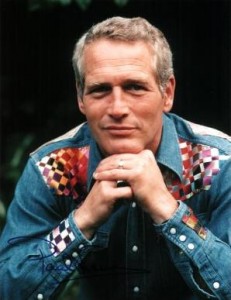 So, today marks the passing of Hollywood legend and all around good guy Paul Newman. He was an acclaimed actor, director, and producer, as well as a successful race car driver and an incredible philanthropist.
He'll be remembered for his outstanding performances in such movies as The Hustler, Cool Hand Luke, Butch Cassidy and the Sundance Kid, and The Sting, but he sound get equal credit for his charitable work. His company Newman's Own, which donates all profits to charity, has donated over $250 million worldwide. One of his most notable charitable efforts was founding The Hole in the Wall Gang Camp, a summer camp and center for seriously ill children which provides all services for free.
The odd thing as today at the grocery store, on a whim Mrs. Furious, for the first time in months, decided she wanted to have pasta. Before we even heard of Paul Newman's death, she picked out Newman's Own Sockarooni sauce, which isn't her normal brand. She does, however, really enjoy Newman's Own Limeade.