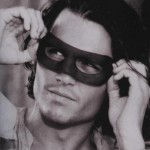 So, today Disney had a big preview of several of their movies coming in the next few years. And not exactly surprisingly, Johnny Depp was the centerpiece. He's now so tightly entwined with Disney that I expect him to start releasing kid friendly pop albums.
We already knew about Alice in Wonderland reuniting Johnny Depp, playing the Mad Hatter, and Tim Burton. It was a safe bet that a fourth Pirates of the Caribbean movie was in our future- the name alone will make a profit, regardless of what the movie is about. The surprise was when the USC marching band started blasting out the Lone Ranger theme song and Johnny Depp came out dressed up as Captain Jack Sparrow. Captain Jack Sparrow wearing the Lone Ranger's mask. Apparently Depp will be playing the masked buckaroo in an upcoming origin movie penned by Pirate scribes Ted Elliot and Terry Rossio.
UPDATE: It looks like Depp will be playing Tonto in the Lone Ranger movie. Unless they just didn't announce who they cast as the Lone Ranger, Disney must be planning on getting a big name to play the Ranger, seeing as the studio's biggest star is the sidekick, or as the always hilarious Wikipedia refers to him- the Native American assistant.