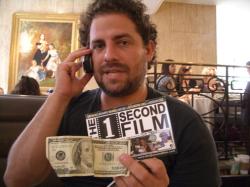 So, one guy that's headed toward a directors I hate list is Brett Ratner. I think it's mostly because he's a celebrity that directs movies, rather than a director who is a celebrity. Or maybe it's that his generic stamp is portrayed as a seal of quality. By my count the guy has made eight movies, three of which (Rush Hour 2, Rush Hour 3, X-Men: The Last Stand) are sequels and one (Red Dragon) a prequel. It's not that I really care about his celebrity lifestyle as much as I expect a more substantial résumé if commercials for his movies end with A BRETT RATNER FILM.
Seeing as being hip and popular are his main goals, it shouldn't be a huge surprise that he wants to make a movie based on the Guitar Hero video games. He says, "It could be about a kid from a small town who dreams of being a rock star and he wins the 'Guitar Hero' competition. One of these dreams-[come-true] kind of concepts." A rags-to-riches story about doing something that's completely meaningless (in the grander scheme of things) where the ultimate goal is being famous. It sounds totally in Ratner's wheelhouse.
You can wait for the movie if you want, but watch the South Park episode Guitar Queer-O for the definitive word on the Guitar Hero phenomenon.