So, I already told you about the actors I hate, but I hate these actresses just as much. Watching them on the screen, they make me so nauseated, it's all I can do to keep from puking.
I know a lot of people would disagree with me, but Penelope Cruz freaks me out a little. I know it sounds stupid and infantile and mean, it's just that her face is too small for her head.
For some reason I find her tiny face so disturbing that I can hardly bring myself to watch a movie if I know she's in it. In fact, for as many movies as she's been in, I've only seen Blow, Vanilla Sky, and All the Pretty Horses. Pretty scant seeing as she's been in more than 40 movies. I can't even direct any criticism toward her acting ability since I can't concentrate on what she's doing while her little face is anywhere in sight.
Nancy Travis made her movie debut in 3 Men and a Baby. She played the mother of the baby, the overriding presence in the movie. We're always asking ourselves, "What kind of woman is it that could get these three studs into such a predicament?" She finally shows up and gets out acted by everyone, even Steve Guttenberg. But her meek acting, that's not even the worst part. The thing I hate about her is the gigantic hairdos she always used to sport. She had this hulking pile of permed mess on her head. She's changed it in recent years, but I still get uneasy when she pops on the screen.
If you thought Nancy Travis struggled keeping up with her costars, you've probably never seen Lorraine Bracco try to act. When she's talking, it sounds like she's always about to start whining about something. And when she yells? I don't know how she can yell so much and never sound like there's any emotion behind it. Whether it's being miscast in Goodfellas, annoying all the jungle animals in Medicine Man, or sitting in a chair on the Sopranos, she's always the weakest link.
I know she's a very accomplished actress, but I've never gotten Diane Keaton. It seems anymore like she's always trying to play a hip, slightly goofy 20-year old. Ever since Baby Boom, there's only been a handful of movies where she hasn't played that character. I didn't see any of her earlier movies until after that, so the initial impression has stuck with me. It's like she's always supposed to be endearing and you're supposed to laugh. How many trailers have you seen where she raises her eyebrows, widens her eyes, and barks out a laugh? Too many for me.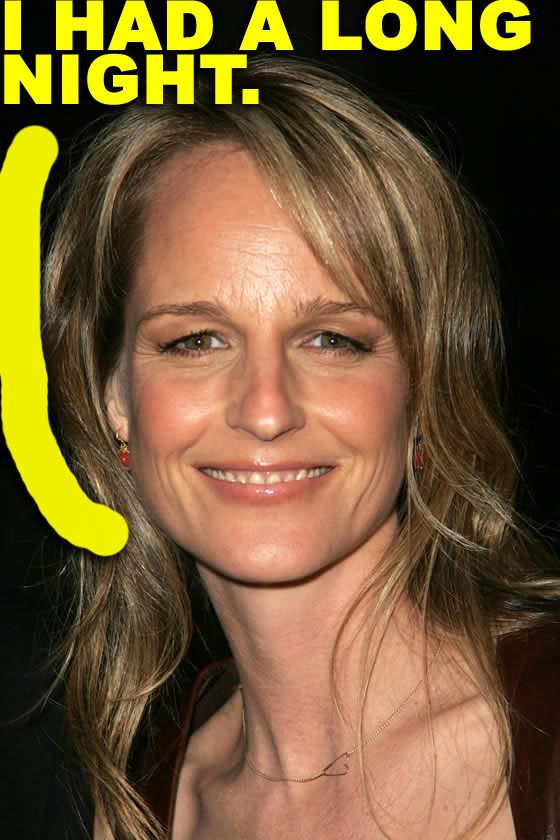 And now to Helen Hunt. I've never seen someone who I've been more sure will start crying at any moment. Her delivery is so whiny and her eyebrows set just so, I mean, look at the picture to the left. She's smiling, but you can just imagine those tears rolling down her cheeks. It's probably why everyone loved her in As Good as It Gets- you felt bad because it looked like she was going to cry whenever Jack Nicholson talked to her. I just can't take her seriously when she's perpetually crying.